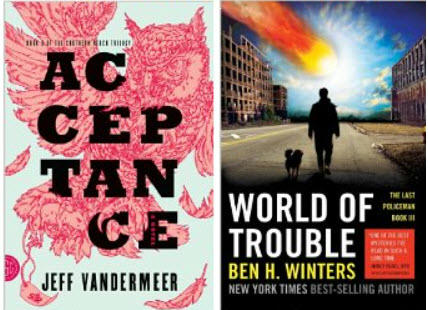 Usually when I finish reading a book I add it to my Book List page and indicate if it is a nominee for my Book of the Year. With this post I am starting something new here on the website. Now when I finish a book, I will also write about it. This first post will cover the last two books I read, Acceptance by Jeff Vandermeer and World of Trouble by Ben H. Winters. Both are the final books in their respective trilogies.
Acceptance by Jeff Vandermeer
Acceptance was the final book in the Southern Reach trilogy. The story is that twenty or so years ago, a border came down around the southern part of the country, now known as Area X. The Southern Reach was the organization tasked with sending expeditions into Area X to try and find out exactly what it is and what its dangers are.
Mystery mixed with literary sci-fi, all three books are highly recommended. I will definitely read Jeff Vandermeer again.
World of Trouble: Book Three of The Last Policeman Trilogy by Ben H. Winters
The Last Policeman trilogy is about junior police detective Henry Palace at the end of the world. The time is present day, and an asteroid will destroy all life on earth in a matter of months. Though the end is coming, Henry can't stop being a cop. A lot of this has to do with his sister Nico and the conspiracy theorists she has become involved with.
Highly recommended, the first book in the trilogy won a 2012 Edgar Award. World of Trouble is a nominee for my Book of the Year.
The following two tabs change content below.
Writer, cat owner, iPhone user.
Latest posts by Thomas McNamara (see all)