I use different sites and services in support of my website. This is for video files, sound files, pictures and even documents I may refer to in a post. I do this for three reasons.
The first is that the sites and services I use, such as YouTube and Vine for videos, are simply a better way to go than hosting them myself. These services were specifically designed to handle their file types. All of them have iPhone apps that make sharing very easy not only to my site, but to my Twitter and Facebook accounts as well.
The second reason is my hosting service, BlueHost. Though BlueHost offers unlimited storage and bandwidth, there is a caveat. They define "unlimited" as how much storage and bandwidth a personal or small business website would use in normal operation. As we all know, video files can be huge, and streaming videos can take a large amount of bandwidth.
At this point in my site's life I am not too worried about exceeding "normal operation" (and I am fine with BlueHost's policy), but I just do not want it to ever be an issue. The main driver, though, is the functionality, ease of use, and sharing/iPhone app support that these services offer.
The third reason I use these services is my recent experience with moving hosting services. Though many hosting services use a similar folder structure (/public_htm/ for example), not all of them do. My last host – Earthlink – used a different folder structure than BlueHosts so I needed to update links. If I had all of my files hosted on my current hosting service and decided to move again, I may need to update a lot of links. Again. Yes, there are ways to do that, some (semi-)automated, but still many steps to go through. This way, anything stored and linked to on one of these sites or services will maintain their current links if I move.
Here is an overview of the sites and services I use. In the next few months I will do individual posts on each, discuss how I use them, and give any tips or tricks I may have come across.
Website Build: WordPress

The first thing to keep in mind is that there are two types of WordPress. One is WordPress.com. This is a free service (similar to Blogger) where the site files are hosted by WordPress on their servers. Totally free sites will have ".wordpress.com" as part of their name, though for a fee you can have a dedicated name assigned to it. There are some limitations to what you can and cannot do on a WordPress.com blog. Please see their website for more information.
The other type of WordPress is WordPress.org. This is the type of WordPress that I use. WordPress.org has themes, plugins and other files that can be downloaded from their site and installed on a hosting service that you pay for. Some hosting services, like BlueHost, have applications that will install the WordPress files on your site for you. Then you customize the site with the theme you want, plugins and widgets to include, and so on.
Using a hosting service is not free, but it gives you more control of your site and your content. The Kindle book WordPress for Beginners by Dr. Andy Williams was very helpful to me when I was setting up my site.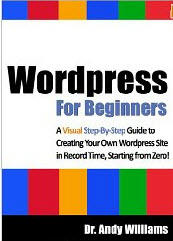 Picture and File Hosting: MediaFire



There are many great sites for storing/hosting pictures (Flickr, Tumblr, Picasa, etc.) and for storing/hosting files (Dropbox [which I use daily and love], Google Drive, etc.), but I decided to go with MediaFire.
MediaFire allows me to upload and store not only picture files, but other types of files like Word documents and PDFs. One post I have coming up is about some Visual Basic for Applications programming I did in Word and I want to be able to easily share an example Word document.
I use the Pro version of MediaFire, which is normally $4.99 a month, but as of this writing (January 2014) is half price. The Pro version includes ad free sharing and downloading, and 100GB of storage. It also includes the ability to link directly to my pictures or files. The MediaFire web interface is very clean, you can create folders, and drag-and-drop files from your desktop for upload. I also like their iPhone app.
There are many other solutions you can use – including free ones – but the biggest draw was having one place to store and organize my pictures and files, having them be available ad free, and overall ease of use. This also keeps my Dropbox account completely separate from my site.
Video Hosting: YouTube

YouTube is of course the premier video sharing service. Once I finish ramping up the website my plan is to focus on my YouTube videos and channel. A great feature of YouTube is the ability to embed a video stored there into a page on your site. Yes, the videos are ad supported, but the trade off for their storage and use of their bandwidth is worth it to me.
Because YouTube is so ubiquitous many apps, programs and even cameras with built-in wi-fi have "upload to YouTube" options.
I also like Vimeo, though I have not used it very much. Cool features include being ad free and you can password protect videos. Some filmmaker friends of mine have used this when sharing reels or clips that they didn't want completely out in the wild yet.
MicroVideo Blogging Service: Vine

I have been on Twitter since February 2008. When they announced Vine I had to check it out. Vine is a fun app to create 6 second videos. Like YouTube, the videos can be embedded into webpages. Some people are doing amazing animations with Vine. It is also great for quick, simple demos or examples when you don't need to do a fullblown video. Also on the list to do more with in 2014.

The following two tabs change content below.
Writer, cat owner, iPhone user.
Latest posts by Thomas McNamara (see all)