I recently upgraded to the new Adobe Creative Cloud 2014. One of the things I noticed is that the 2014 version did not overwrite/replace the existing version. Though some settings did appear to carry over from one version to another, the custom snippets I created for Dreamweaver did not.
I use Dreamweaver mostly for composing the posts on my website, which is running WordPress. Since I use certain commands and HTML code in my posts repeatedly, I created about 10 snippets for them.
Some of the snippets are very simple, like inserting a double line break:
‹br›‹br›
Others are a little more complex, like one that wraps a highlighted URL with the HTML to launch it is a new browers window:
‹a href="http://thomasmcnamara.com" target="_blank"›ThomasMcNamara.com‹/a›
I could not find a way from within Dreamweaver ACC2014 to import the snippets easily from the previous version (there may be a way that I missed, but I didn't come across it.).
When I looked in the original Dreamweaver CC version directory:
\Adobe Dreamweaver CC\Configuration\Snippets
Please Note: I am using Windows 8.1, so if you are using a different version of Windows, are on a Mac, or installed Dreamweaver to a custom directory your path may be different.
The default snippet folders were there, but not the custom ones I created:

I then did a search for snippets files on my system. Their extension is .csn.
The search found them in a hidden folder:
\username\AppData\Roaming\Adobe\Adobe Dreamweaver CC\Configuration
Please Note: You may need to change your settings to view hidden folders. To do this on Windows 8.1.: Open a Folder/Select the View Tab/From Options Select Change folder and search options/The Folder Options window appears/Select the View Tab/Go to the section called Hidden Files and Folders/Select Show hidden files, folders and drivers/Click OK
My custom snippets were in their own folder (which I called WP since they are for doing posts on my WordPress site). I copied the folder to my desktop.
I then opened the location where the default snippets are located for the new 2014 version of Dreamweaver:
\Program Files (x86)\Adobe\Adobe Dreamweaver CC 2014\Configuration\Snippets
Once that was done I launched Adobe Dreamweaver CC 2014 and viewed the snippets. My custom WP directory appeared with the snippets: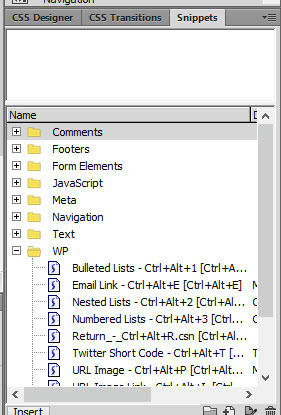 I did notice that the keyboard shortcut keys did not carry over. These are the hotkeys that I had programmed to run the snippets (for example, CTRL+ALT+R runs the double line break snippet).
This is where I was very glad that when I created the snippets I had included what their keyboard shortcut keys were as part of their titles: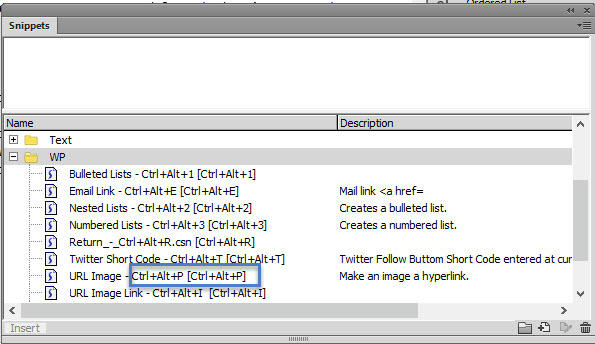 Though I had to go through and assign the shortcuts to the snippets again, I at least knew what I had originally assigned them as.
If I discover an easier way to import snippets or maintain assigned shortcut keys I will update this post. Hopefully this was helpful to anyone upgrading to ACC 2014.