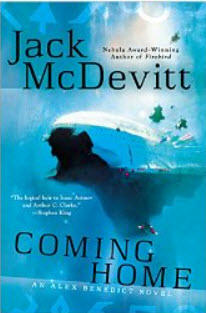 Jack McDevitt is one of my favorite writers. The first book of his I read was Moonfall. A standalone novel about an asteroid that will shatter the moon, it was edge-of-your-seat exciting. I was hooked on McDevitt from that point forward.
The next book of his I read was Deepsix. This is the second book in the Priscilla "Hutch" Hutchins series. I cannot recommend these books highly enough. They are fantastic. This is the book where I knew I would read everything McDevitt wrote. Many of the books are around the Omega clouds, space traveling destructive forces that will attack any planet where it finds structures with right angles. This is because right angles do not exist in nature, someone had to make them. Very cool, exciting books.
McDevitt's other series is the Alex Benedict books. These take place thousands of years in the future. Alex and his pilot Chase travel the universe looking for relics. Some human, some may be alien. Coming Home is book seven of the series. Another home run by McDevitt, it is a nominee for my Book of the Year.
Coming Home has two major stories in it. One is Alex and Chase looking for Apollo-era relics. The other is a continuation of a storyline that began in book six of the series (Firebird) about the rescue of passengers on a starship stuck in trans-dimensional space. I don't want to say too much more due to possible spoilers, other than I really enjoyed it. Also, if you have not read the Alex Benedict series yet, I would recommend at least reading Firebird before reading Coming Home since they tie into each other so much.
Please check out Jack McDevitt. You will be glad you did.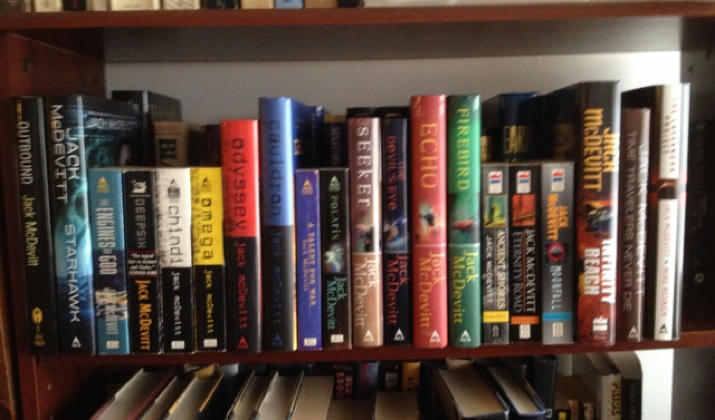 My Jack McDevitt Book Shelf.