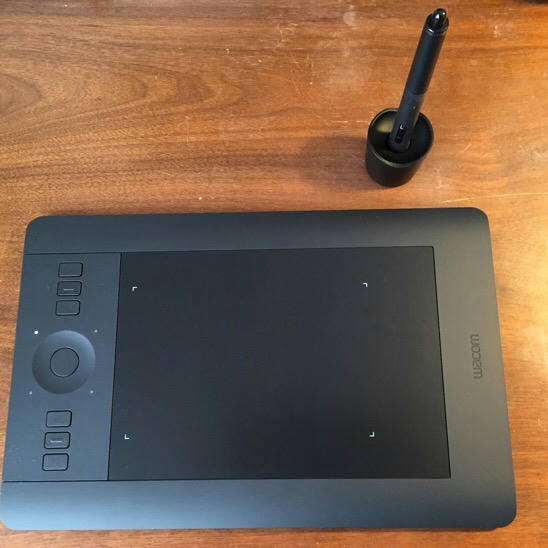 I recently bought a Wacom Intuos Pro small tablet. Because my laptop has a touch screen, there were a few configuration steps I needed to do to enable the pen. This blog is mostly for me in case I ever need to do a fresh install on my system and those steps will be readily available.
I also want to share why I finally decided to get a Wacom after thinking about it for a few years. I will also share some customization that can be done on the tablet and pen buttons.
I held off getting a Wacom because I felt that they were more for digital artists. Though I would like to get a bit more into drawing, I am no where near the point where I would need anything more than pencil and paper. Think stick figures.
Recently, I started watching Sara Dietschy's vlogs (please check out her YouTube channel, especially the Casey Neistat-related videos) and she did a comparison of the Wacom Intuos medium-sized Intuos 5 tablet with the Intuos Pro small tablet:
I liked that the Intuos Pro small tablet could fit in a laptop backpack. Sara uses it for Photoshop, Premiere Pro for editing, and for AfterEffects, which are the programs I will use it for. Please note that Sara does not do digital art either, and that is something to keep in mind. If you are doing art on your computer, using something like Illustrator, Manga or Anime Studio, or any other digital art application, you may want to go with the bigger Wacom.
At this point I looked at a few YouTube videos about using the Wacom with Premiere and AfterEffects, which finalized my decision to get it. As of this writing, I have only had it for about four days and still need to learn how to actually use it. I don't think the learning curve is going to be too bad, and once I get the hang of it I know I am going to love it.
As I mentioned above, when I first setup my Wacom I had a few minor issues that were very easy to correct.
The first was the software that came with the Intuos. A CD was included with the software on it, but I wanted to download and install it from the Wacom website to insure I had the latest version. There was a point where it asks for the Software Bundle download key, and that is on a sticker on the back of the CD envelope. Make sure you install the software bundle because it includes the Wacom Tablet Properties program that allows you to customize the tablet and pen buttons.
After installing the software, I noticed that the pen option was not showing up in the Wacom Tablet Properties program: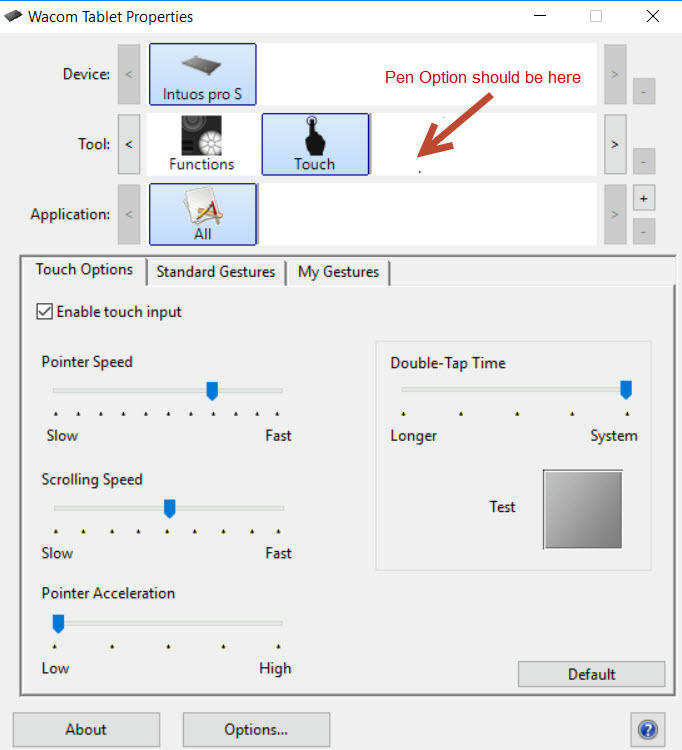 I believe this was happening because I have a laptop with a touch screen running Windows 10. I found a video by Adam Duff at LUCIDPIXUL with the steps to correct this. Please note that much of Adam's video has to do with an issue he was having specifically in Photoshop. It is the last corrective action that he takes around the 7:23 mark that fixed my issue of the pen option not showing in properties. I will list those steps below as well.
The steps that I took based on Adam's video were:
Right-click the start button and select search.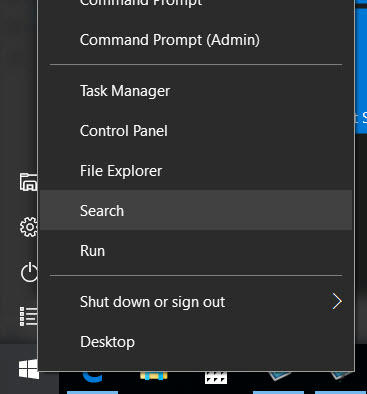 Using either standard search or Cortana, search for "pen and touch". If you use standard search be sure to select that you want to search in Settings. Click on the Pen and Touch result.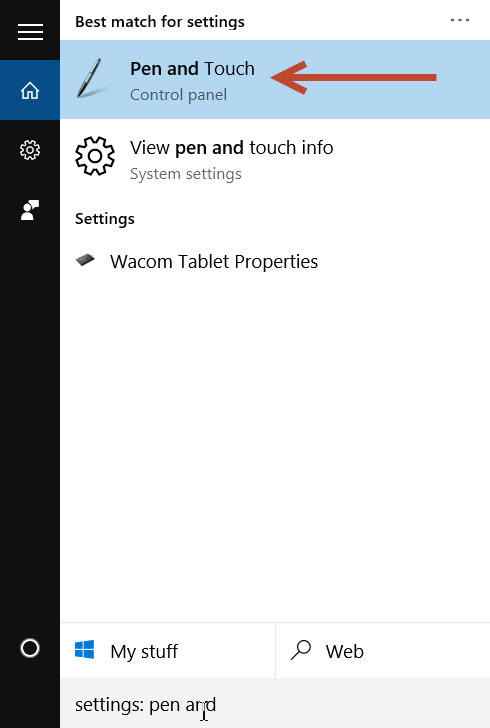 From the Pen and Touch window, select Press and Hold and click settings: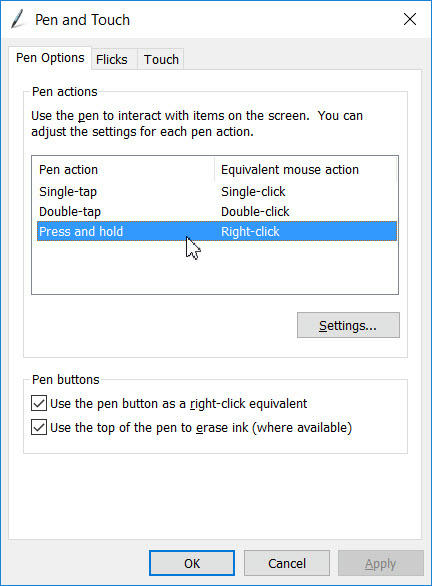 Uncheck the checkbox for Enable Press and hold for right-clicking, then click OK.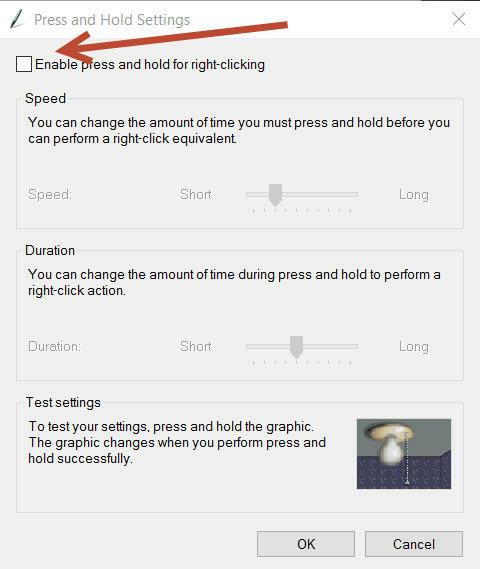 Then from the Pen and Touch window, select the Flicks tab and uncheck the checkbox for Use flicks to perform common actions quickly and easily, then click OK.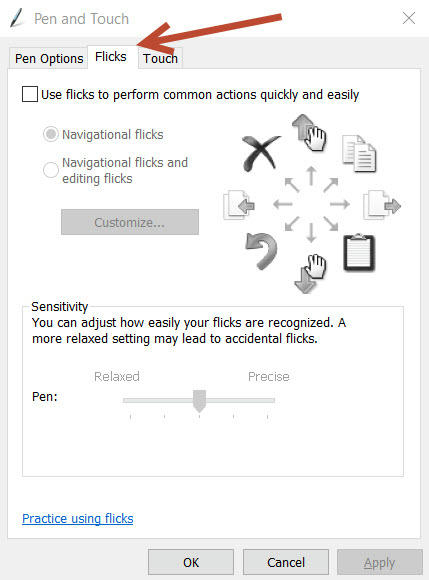 After I did these steps, the pen option appeared in the Wacom Tablet Properties program: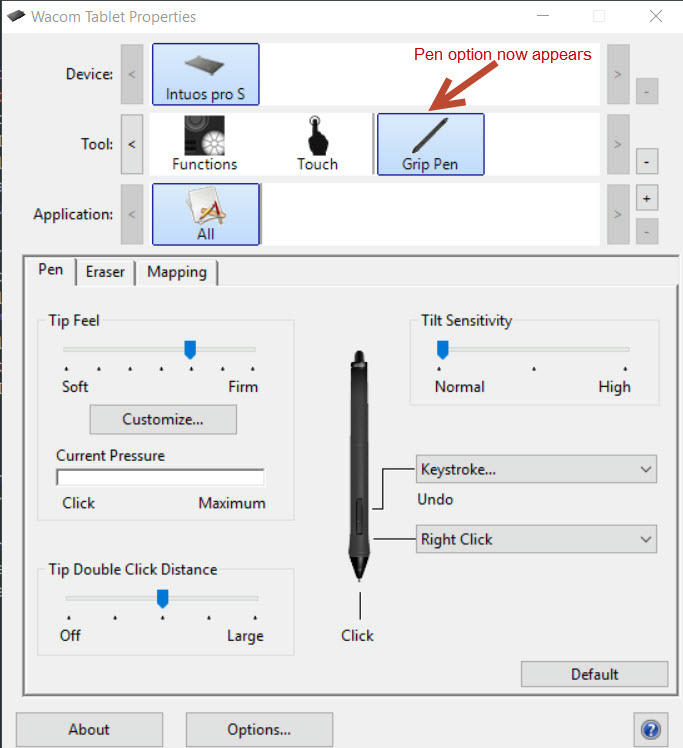 Now I was ready to customize my tablet and pen buttons. The first video I looked at was posted on the Wacom YouTube channel, but was done by Photoshop experts Phlearn (please check out their YouTube Channel as well):
The Wacom/Phearn video covers customizing the buttons on the pen, as well as the buttons and scroll wheel on the tablet. My favorite has to be setting up the back button on the pen to be Undo:
From the Wacom Tablet Properties program, make sure that you are in the pen option, then click the dropdown associated to the pen's back button: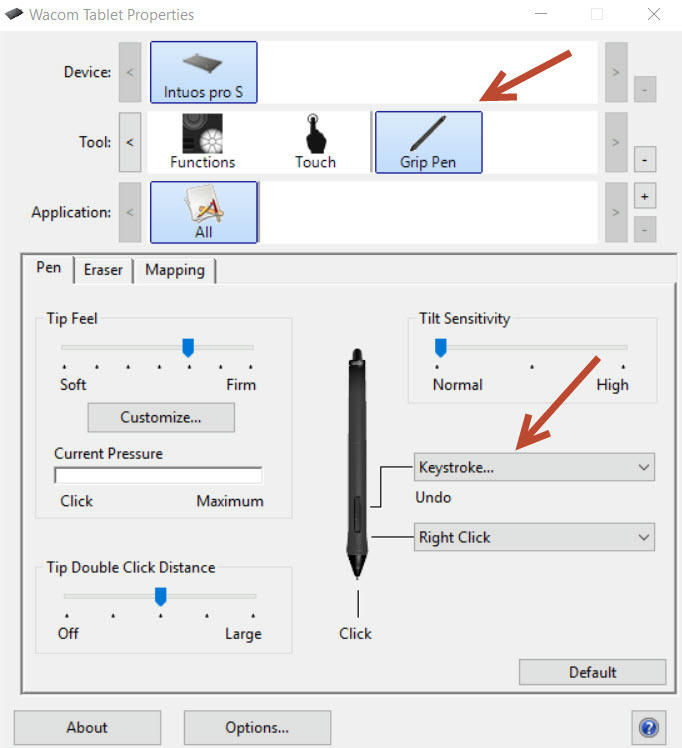 Select keystroke from the dropdown menu:
The Define Keystroke will be displayed. With your cursor in the Keys box, do Ctrl+Z (hold control button down and tap Z). Then in the name field enter Undo. Click OK. Now when using your Wacom you can click the back button on the pen and it will perform the Undo function. I know this is one I will be using a lot.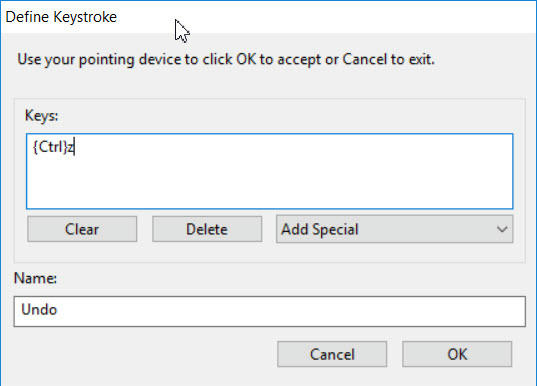 The next video I want to share is by Pxlpainter and how they setup their Wacom for use with AfterEffects. One of the things I want to call out is around the 1:30 where he shows how to configure the settings for all applications, or do settings for a specific application. So you can have the buttons and scroll wheel customized a certain way for one program, like Premiere Pro, but have them configured a different way when you are in another program, like Photoshop or AfterEffects.
I will share my progress with the Wacom in future posts, including any tricks or custom configurations I come across.