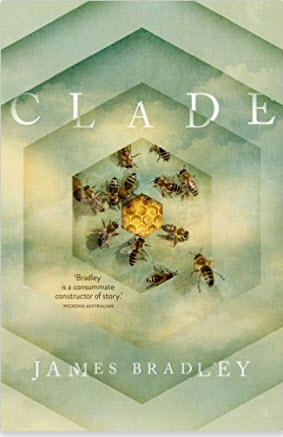 Clade by James Bradley is a nominee for my Book of the Year 2016.
Clade is a short book, 189 pages, and might technically be a novella. However, since it was published as a stand-alone piece, I am considering it a novel. Also, I have read 1,000 page books that did not have as much story as Clade does. In that way, Clade reminds me of two favorite books from last year, Elysium by Jennifer Marie Brissett (208 pages) and Slow Bullets by Alastair Reynolds (192 pages). All three books presented deep, full stories in very few pages.
Clade follows a family and their friends through many years of ecological disasters due to global warming. Jumping years at a time, we get glimpses into their lives. In those glimpses we see the impact of the climate change on the world and on the family. It could almost be the same world as the one in Paolo Bacigalupi's The Water Knife, or at least one parallel to it. Though the world in Clade seems a bit more gone than the one in The Water Knife.
I highly recommend Clade and will definitely keep an eye out for the next book by Mr. Bradley.